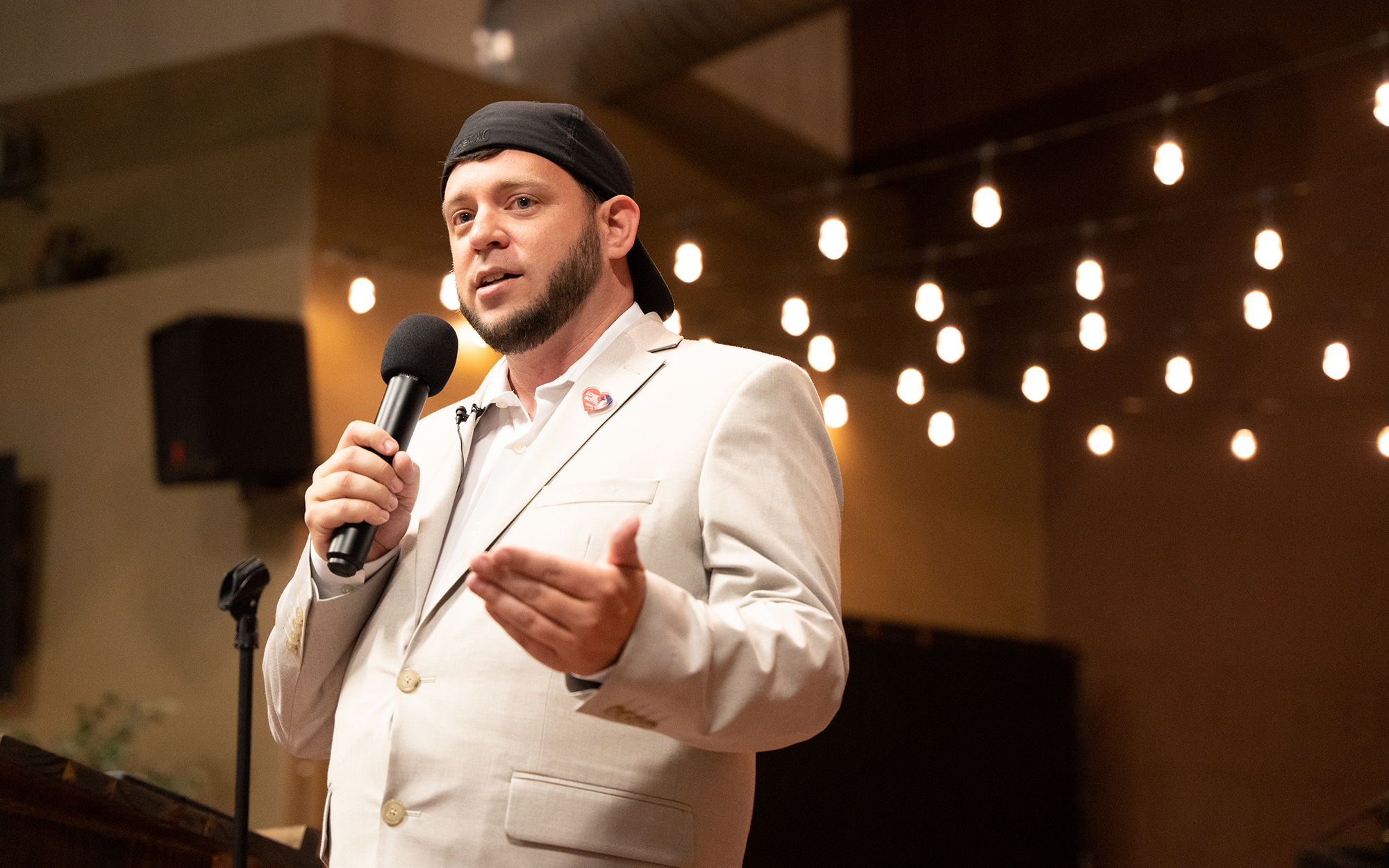 'Abortion-free America': Initiative seeks more 'sanctuary cities for the unborn' across U.S.
Texas pastor Mark Lee Dickson travels the country working to create more "sanctuary cities for the unborn" – with a goal of banishing abortion from America.
PRESCOTT VALLEY, Ariz. – Mark Lee Dickson leads the charge of the anti-abortion movement with a goal of banning abortion across the nation – city by city and state by state – until he can create an abortion-free America. And world.
In his signature getup of a black baseball cap worn backwards, a blazer, button-down shirt, jeans and black low-top Vans, Dickson, 37, travels the country trying to get cities to ban abortion through the controversial Sanctuary Cities for the Unborn initiative, which he founded in 2019.
The pastor from Longview, Texas, and director of Right to Life of East Texas has, by his count, succeeded in helping 67 cities and three counties pass ordinances banning abortion – and he doesn't have plans to stop.
"I want to see abortion outlawed in New Mexico. I want to see abortion outlawed in Illinois. I want to see abortion outlawed in California. I want to see abortion outlawed in New York," Dickson said in an interview with News21. "I want to see abortion outlawed on every tribal territory in the United States of America. I want to see abortion outlawed in all American territories."
Dickson believes his work is valid, even in states where abortion remains accessible, because of the Comstock Act, an 1873 law that made it illegal to mail "obscene, lewd or lascivious" materials, including those pertaining to abortion or birth control.
The law was considered dormant during the nearly 50 years that Roe v. Wade was in effect, and the U.S. Department of Justice has since said the Comstock Act does not permit these sorts of bans.
Dickson sees it differently: "These federal statutes trump all state laws and state constitutions."
Some of the ordinances, written by Dickson and Texas lawyer Jonathan Mitchell, don't specifically ban abortion; instead, they ban the mailing of abortion-inducing pills, such as mifepristone, and instruments used in surgical abortion.
Dickson made his first stop in Arizona in early June, exhorting about 40 people at the Vineyard Church of Prescott Valley to ban abortion in this town of some 49,000 residents.
"Knowing that Prescott Valley could potentially be the first sanctuary city in Arizona, it makes me feel really good," said Jamie Jefferies, executive director of Abortion on Trial and a Prescott Valley native.
The ordinances have been heavily contested in states such as New Mexico, where the Legislature passed House Bill 7 to nullify the measures.
"Everyone deserves access to essential health care no matter what corner of our state they call home," state Rep. Reena Szczepanski, a Democrat, said when the bill was signed into law.
The city of Eunice, New Mexico, which passed an ordinance in January, has filed a lawsuit against the governor in an attempt to protect the local bans.
"I believe in the end we will see an abortion-free America."
— Mark Lee Dickson
Founder of Sanctuary Cities for the Unborn
"Fortunately, I don't think they have much of an impact," Clayburn Griffin, who lives in Lovington, New Mexico, said of the ordinances. "We don't have abortion providers in the area anyway, so they don't really do anything."
Griffin was vocal against an ordinance in the city of Hobbs before it passed in November 2022. He said he doesn't think it fully represents the community, given it was promoted by someone who isn't from the area, let alone the state.
"I think it's really just kind of his own self-promotional motives behind all of this," Griffin said of Dickson. "He just wants publicity for himself, for his cause, for his organization – and the funding that comes along with that – and he's using our communities to get that."
The first city to become a "sanctuary city" was Waskom, Texas, followed by 23 more Texas towns. Dickson ventured outside of Texas in April 2021 to help Hayes Center, Nebraska, pass an ordinance.
Despite pushback, Dickson said his work will go on. In past months, in addition to Arizona, he's been to Illinois, Missouri, Washington, D.C., and other places, always with one goal in mind.
"I really believe that America is pro-life," Dickson said. "I believe in the end we will see an abortion-free America."
News21 reporters Tori Gantz, Mingson Lau and Jada Respress contributed to this story.